Our Value
RIN IP Partners is a boutique intellectual property law firm that specializes in the field of Intellectual Properties particularly as they relate "Brands".
In order for companies to create, maintain and strengthen their place in the international marketplace, they must establish their brand identity (CI, trademarks, package design, product design etc.), and it is vitally important to have a strategy to proactively protect and develop that brand through intellectual property rights.
At RIN IP Partners, we strive to exceed our clients' expectations by providing the highest level of strategic professional service. We do so by the value we place on three primary concepts– "communication" based on a coordinated relationship with our clients, a high level of professionalism through "trademark and design specialization," and "globalization," which focuses on international strategies to help our clients strengthen and improve their brand image both at home and abroad.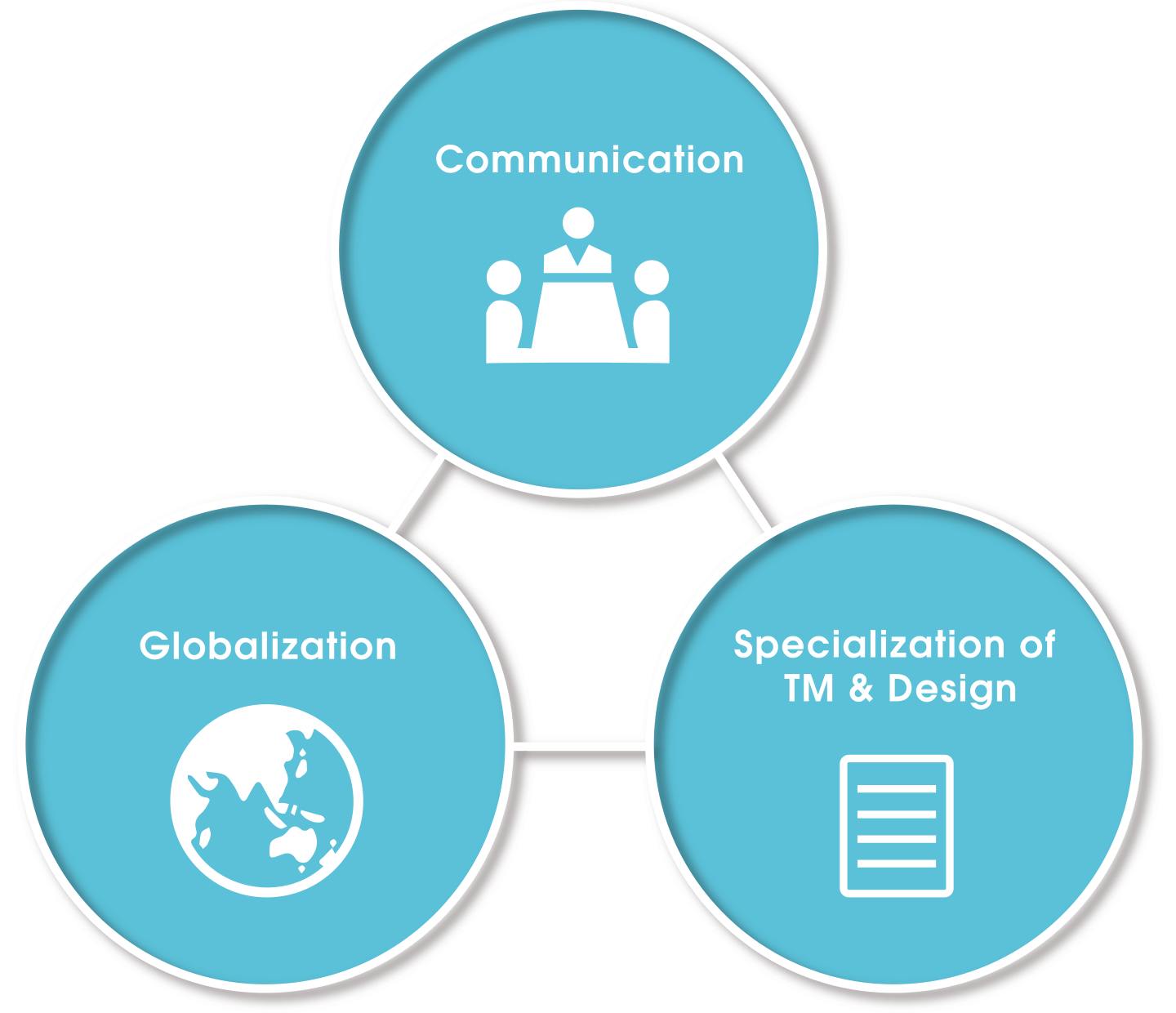 Communication
Here at RIN IP Partners, we place a high priority on communication. Effective communication with our clients is vital to ensure that we clearly understand our clients' needs and expectations, and allows us to expediently provide the services they require. In order to ensure no lapse in communication, from the initial consultation through the registration process including renewal of the IP rights, in principle we try to have the same attorney handle the case. We aggressively use the communication tools available to us, from e-mail and phone conversations to meetings at our firm, or if the client should wish, scheduled meetings at a location of their choosing.
Specialization in
TM & Design
At RIN IP Partners, among intellectual property services (patents, trademarks, designs, utility models, etc.) we are specialized in trademarks and designs. By focusing primarily on these, we strive to provide our clients with the highest level of specialized and professional service.
Globalization
As many of our clients transport and provide their products, services and designs across many borders throughout the world, our firm provide a "one-stop" worldwide service including not only Asia, North America and Europe, but also Central and South America, the Middle East, and Africa.
We are continually working hard to strengthen and expand our global network, travelling to meet with representatives from various countries, hosting them in Japan as well as attending international conferences.